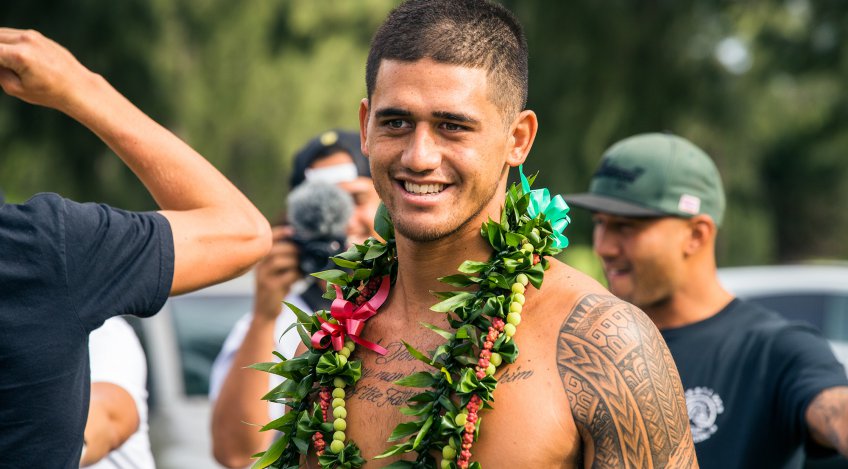 Lines of swell explode up and down the coast, far too big for most of the reefs to make sense out of. The sun is baking into the pale skin of confused tourists piling out of those hibiscus-painted busses at Sunset Beach. Luscious smoke escapes from small food truck kitchens and dances off into the breeze. The bike path is bustling with all forms of life. It's just another day on the North Shore.
But it's far more than that for Zeke Lau.
For Zeke, it's the day before the biggest event of his life. The 2016 Triple Crown starts tomorrow, kicking off with the last two events in the QS season. Zeke is sitting just outside the qualification bubble. It's a place he'd been in before, and lost. This time, though, something feels different.
We threw three questions his way to peer around the mind of someone on the brink of realizing their dream. Have a look.
How do you feel going into the Triple Crown?

It feels really good to be within an arm's length of qualifying this year. I've just been trying to focus on what's going on around me and be in the moment, but I pretty much can't go anywhere without everyone talking about it. That's been cool though. This is home for me, so I can feel all the support from my friends and family. Everything's positive and I feel like I'm in a good place. I just hope we get waves so I can have some fun.




You've been in a similar place in the past. Anything you've learned from that?

I've had good years and bad years, so I've been reelecting a lot and trying to find the difference between the two. I'm trying to do the same things I've done in the successful years and re-create that mindset. Everything feels like it's building up right now — this could be the year.




What exactly have you learned that you're applying now?

I've surfed these breaks my whole life, so I'm not thinking about heat strategy or any of that. It's more about being in the right mindset to allow myself to perform at my peak. When you try to focus so much on a certain result, you lose appreciation for where you're at. So I've learned that I need to keep an open mind. I need to always be positive. I need to be in every moment and enjoy where I'm at. In my heats. In my career In life in general.




A few weeks, and a rollercoaster of a story later: